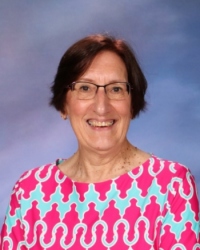 Patti Jackson

Teacher, Grades 3+4, Jr. Choir Director

Phone:school office at 414-774-8520
Patti Jackson has taught at Good Shepherd's for many years. In addition to teaching grades 3+4, she coaches girls' sports and directs the Junior Choir.

I thoroughly enjoy teaching children at this level. They are old enough to be more independent, and they are eager to learn new things. As a sports enthusiast, I consider it an added blessing to also coach athletic teams. Personally and professionally, I have appreciated the Christian atmosphere at Good Shepherd's, where I have spent the majority of my career since I started teaching in 1977.
Patti graduated from Dr. Martin Luther College (now Martin Luther College)


---
Good Shepherd's teachers are ready to listen to your concerns and discuss the education of your child. It is their desire to encourage scholastic excellence in their students, and more importantly, to lead them through Christian example and Biblical teaching.