Good Friday Tenebrae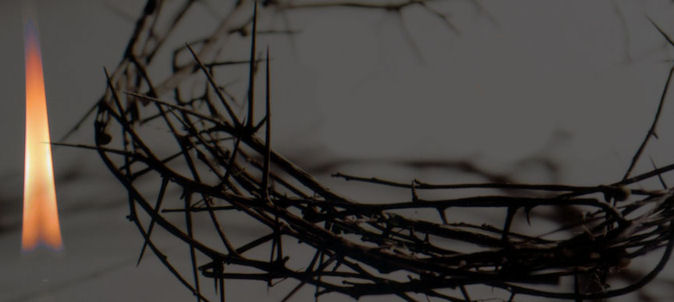 Good Friday Tenebrae at Good Shepherd's Church

Friday, April 19, 2019, 7:50pm
Forsaken!
Experience the emotions and drama of Christ's last hours as the church gradually darkens

Reflect on the reason for Christ's suffering

Meditate on what Christ's work means for you

Including clips from the movie My Son, My Savior
To impress on the minds and hearts of believers the awful consequences of sin and the magnitude of the Savior's sacrifice, the ancient church held a special service called Tenebrae, during the last days of Holy Week. The name means Darkness and Shadows.

In this adaptation of the medieval Tenebrae, we will be witnesses to the deepest sorrow of our Savior. Step after relentless step, Jesus walks the Way of Sorrows. One after another, all forsake him until ultimately he stands in the God-forsakenness of hell itself.

The extinguishing of the candles and growing darkness of the church, symbolizes the deepening sorrow. When the Lord breathes his last, the Christ Candle is extinguished, symbolizing our Lord's death and burial. Then the Christ Candle is relit in anticipation of the Lord's resurrection.

_______________________________
Tenebrae (pronounced TEN-a-bray) comes from the Latin word meaning "darkness" or "shadows." For many years Christians have pondered the sufferings and death of Jesus by hearing again the steps of his passion. This service is called the service of darkness because lights and candles are gradually dimmed and extinguished throughout the service until the final moment of Jesus' life when he cries, "My God my God, why have you forsaken me?" The lights are completely out and we spend a quiet moment pondering the immensity of how Christ suffered hell at that moment on our behalf.
Another feature of the Tenebrae service is the "strepitus' (pronounced STREP-eee-tuse). Strepitus is another Latin word which means "loud noise." A loud noise will be played during the service to symbolize the tomb slamming shut. This noise is not meant to frighten anyone in the worship service. Please let your children know that a loud noise will be heard in the worship service which is not meant to be scary but to remind us how Jesus died for our sins and was laid in a tomb. The noise will gradually fade in and then stop.
Similar to the Good Friday service, there is very little organ playing to encourage a somber and meditative atmosphere. Hymns are sung as a response to the readings. Prayers will be spoken. Worshipers will be encouraged to assemble and depart in silence, pondering the message they have just heard. The worship service will primarily be led by slides projected in the front; however, worship folders will be available as a reminder and aid for your Easter preparations. Communion will not be served at the Tenebrae service.